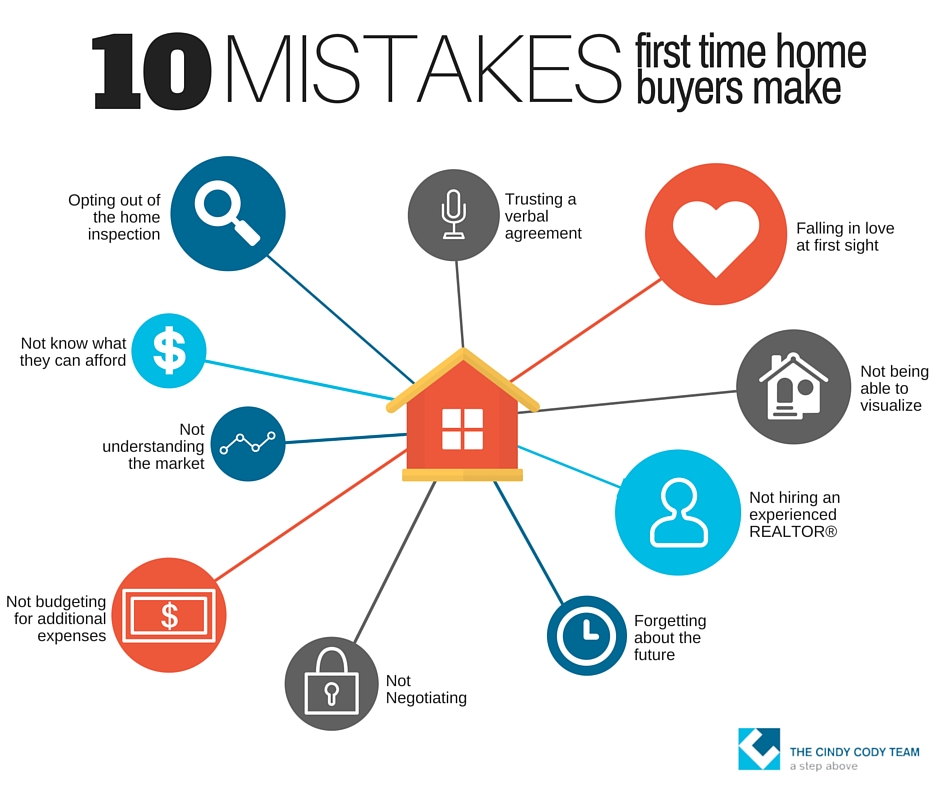 Buying your first home is a big deal. All of a sudden you're making one of the largest purchases of your life, and entering a whole new realm of information and processes. It's a very exciting time, but it can also be overwhelming. Having never bought a home before, first time home buyers tend to make a few mistakes. Here are 10 first time home buyer mistakes that you can avoid.
1. Not Knowing What You Can Afford
Some first time home buyers jump into the house hunt without knowing how much they can realistically spend. Take the time to crunch the numbers yourself and break down your monthly expenses, including every little thing you spend money on. You don't want to strap yourself by committing all of your income to your monthly payments. Find a number that you are comfortable with.
2. Not Budgeting For Additional Expenses
Often, first time home buyers are excited to find their dream home that they forget to budget money additional expenses. Expenses like property taxes, insurance payments, and inevitable home repairs. Even if you don't have immediate plans for renovations, keep in mind that as a home owner, things come up unexpectedly.
3. Falling in Love at First Sight
If you've never been on the hunt for a home before, it can be an overwhelming experience. It's lots of fun to look at homes and picture your family living in them, but some first time home owners fall victim to love at first sight. Be sure when you love a house, you're not in love with the home staging, but rather, you love how your family can turn a building into a home.
4. Not Being Able to Visualize
This mistake occurs with first time home buyers as well as families who have purchased many homes over the years. Remember when you're touring potential properties, you're not going to be living in it as is. You can change the colour of the falls, move your furniture in, rearrange the layout and make it your own. It's a mistake when people on the house hunt walk in a home and rule it out because they can't see past the colour of the kitchen. As a first time home buyer, you'll likely have a wish list, but you may have to make some of those wishes come to life. Be able to visualize the changes you can make to a home will let you see its real potential.
5. Opting Out of the Home Inspection
Would you ever get married without getting to know your partner's personality? Well foregoing a home inspection is the same. You're committing to something, without really knowing much about it beyond the surface. If you're worried requesting a home inspection will impact your offer, then speak with your REALTOR®. Opting out of the home inspector could lead to unforeseen issues with the property, leaving you and your bank account vulnerable.
6. Not Understanding the Market You're In
As a first time home buyer, there's a lot to learn. But one thing you'll want to keep in mind is understanding what type of market you're in. Is it a buyer's market, or a seller's market? This will have an impact on your offer and negotiation strategies. Consulting with an experienced REALTOR® is the best way to truly understand the market.
7. Trusting A Verbal Agreement
This mistake can potentially cause heart break in a first time home buyer. A deal isn't a deal until it's signed. A seller may verbally accept your offer, and have second thoughts after a night's sleep. Save your celebrations until the paperwork has been completed.
8. Forgetting About the Future
Buying your first home is exciting. You're thinking about your new life in a new home. But what about 10 years from now? Take some time to research the neighbourhood you're interested in to find out if there are more development plans for the area. Take a look at home trends and consult your REALTOR® about home value trends in the area. Your due diligence can help you avoid this first time home buyers' mistake.
9. Not Hiring an Experienced REALTOR®
This may be the biggest mistake of them all. First time home buyers are new to the market, new to a transaction of this scale, and probably have a million questions. Hiring an experienced REALTOR® to be on your team will give you the comfort of knowing someone is looking out for your best interests. This first time home buyer mistake usually stems from the buyer wanting to save money, but the experience a strategic REALTOR® brings is much more valuable.
10. Forgetting About Negotiations
Negotiations. That's just what they are. First time home buyers are allowed to negotiate to get what they want. You don't have to sit back and accept the deal as it is. Having a REALTOR® on your side is extremely valuable when it comes to negotiating with the sellers and their REALTOR®.