Your bedroom is your personal space for relaxing, unwinding from the chaos of day-to-day life, and where you end up at the end of every day. It should reflect your style and be perfect by your standards. Lately, we've been noticing that people are adding their personal touch to headboards. The headboard is no longer a basic frame used on hold your mattress up and keep your pillow from falling behind the bed. Make your headboard a statement piece!
These headboards are some of the most creative we've come across.
Creative Headboards You Can Make Yourself
DIY High End Upholstery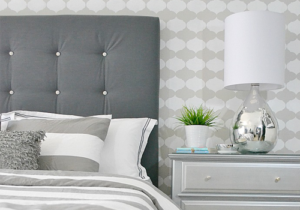 You can make your own tufted upholstered headboard using pegboard. Find out how to make this yourself here. Using a dark grey fabric means any colours you pick for your bedding or wall won't clash. This headboard has a classic look that you won't get sick of.
Above & Beyond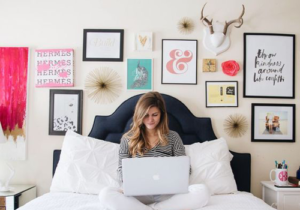 If you're happy with the headboard you have now, you can work on extending your style beyond the board. Create a personalized wall gallery behind your bed using your favourite photos, quotes and art.
Recycle & Relax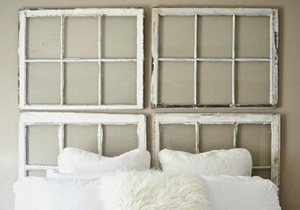 Upcycle old window frames to create a unique and vintage-inspired headboard. Gone are the days when headboards had to be confined. Use the wall space you have to create a visual centerpiece in your bedroom.
Think Outside The Box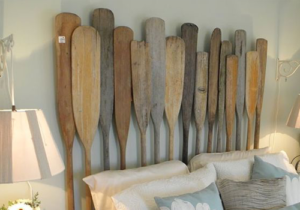 Traditionally, headboards are rectangular (or close to it) pieces of wood, but you don't have to stick with tradition. Explore the idea of laying shapes and textures to create a new age headboard. For example, this headboard is made out of wood oars. It's a perfect example of adding your personality to your bedroom. Take a look at this and many other awesome headboard ideas here.
Do-It-YourSHELF
If you want a DIY headboard solution but aren't looking for a large piece, try something a little more subtle. Install a long shelf above your bed to create the illusion of a frame. Try using a colour that adds contrast and doesn't blend in with your wall colour. Then arrange your favourite photos and decor accents. This DIY project will add height to the room without filling the wall.
Do you have a great headboard idea? Let us know! Visit our Facebook page and let us know what creative headboards you've come across (or even have!)