RE/MAX Canada released the Housing Affordability in Canada: 2022 RE/MAX Report in July after a survey was conducted. The survey found that in order to buy a house that they can afford, 68% of the surveyed Canadians are willing to make at least one sacrifice. And the most common way buyers are willing to buy a home is by relocating.
"The most common concession is relocation, as identified by 64 per cent of survey respondents – a trend that continues to reign as a primary influence in local housing markets across the country, say RE/MAX brokers."
Read: 13 Reasons to Relocate to Kitchener-Waterloo
Other sacrifices buyers have said they are willing to make include:
the type of home they purchase
the type of ownership
renting part of their home
Housing Affordability in Ontario
Similar to Western Canada and Atlantic Canada, some of the smaller regions outside of Toronto/GTA have experienced some of the highest year-over-year price increases in the first half of 2022, due to rising demand and limited supply – Windsor, ON (+24.42% from $542,225 in 2021 to $674,637 in 2022), Barrie, ON (+24.40% from $767,004 in 2021 to $954,133 in 2022), Sudbury, ON (+23.85% from $402,855 in 2021 to $498,939 in 2022 ), London, ON (+23.26% from $632,302 in 2021 to $779,383 in 2022), Hamilton, ON (+22.35% from $775,742 in 2021 to $949,099 in 2022), Thunder Bay, ON (+17.58% from $315,321 in 2021 to $370,761 in 2022), Kingston, ON (+20.83% from $574,844 in 2021 to $694,576 in 2022), Ottawa, ON (+11.46% from $728,205 in 2021 to $811,653 in 2022). In Kitchener/Waterloo, ON, the increase was more modest at +4.29% year-over-year from $759,115 in 2021 to $791,674 in 2022. Unsurprisingly in Toronto/GTA, year-over-year price increases sit at +16.88% from $1,075,636 in 2021 to $1,257,257 in 2022.

Alternatives to traditional home ownership have also seen an uptick in some Ontario regions, as identified by RE/MAX brokers in Hamilton and Windsor. Some of the most significant factors impacting housing affordability in Ontario, highlighted by brokers in Windsor, Sudbury and Ottawa among others, include low or diminishing housing supply, rising interest rates, cost of living and inflation, out-of-province/out-of-region buyers, economic and employment conditions.

The most affordable neighbourhoods across Ontario regions surveyed include:

GTA, ON – Oshawa, Orangeville and Essa
Hamilton, ON – Crown Point North, Durand North and Central South
Kingston, ON – Kingscourt, Henderson and Rideau Heights
Thunder Bay, ON – Westfort, Current River and East End
London, ON – London East, St. Thomas and South London
Ottawa, ON – Rockland, Herongate/South Keys and Bells Corners
Sudbury, ON – Onaping Falls, Capreol and Wahnapite
A Quick Summary of the RE/MAX Canada released the Housing Affordability in Canada: 2022 RE/MAX Report
For 64 per cent of Canadians, relocation is among the top sacrifice they'd be willing to make in order to achieve housing affordability; however, half (50 per cent) agree that the farthest they would go would be less than 100 kilometres

56 per cent say that moving to a different neighbourhood/community would be one of the top three sacrifices they would make
38 per cent would make the sacrifice of moving to a different city/province/region regardless of distance

38 per cent of Canadians define housing affordability as a home they can afford that meets their basic needs, and includes some liveability elements, such as green spaces and restaurants
Based on average residential selling price, Brandon, MB ranked as the most affordable market in 2022, replacing Winnipeg which was most affordable in RE/MAX Canada's 2021 ranking. This is followed by Regina, SK (which remained on the list year-over-year), St. John's, NL, Moncton, NB and Red Deer, AB
Based on the share of income spent on mortgage payments, Red Deer, AB ranked as Canada's most affordable housing market, with 25.86% of average monthly income spent on the average-priced home. This is followed by Regina, SK (26.94%) and Brandon, MB (27.73%) in Western Canada. Eastern Canada's most affordable regions to buy a carry a mortgage include Thunder Bay, ON (29.78% of monthly income spent on mortgage), followed by St. John's, NL (31.45%) and Moncton, NB (33.4%)
Read the full recap here (including the 2022 Housing Affordability Index)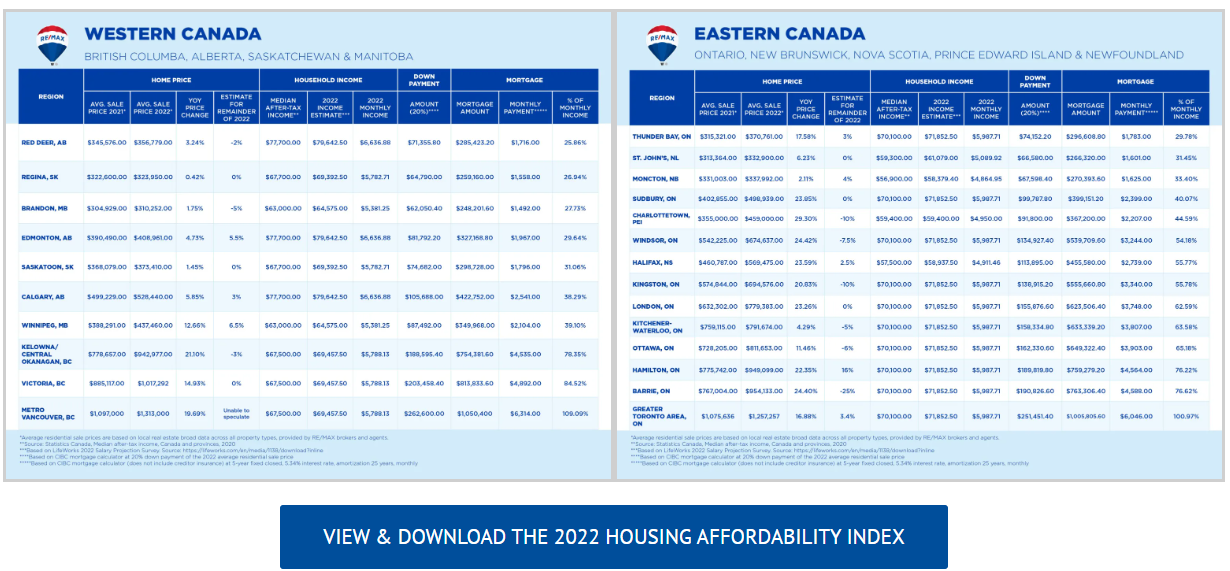 Have Questions About Finding A Home In This Market?
We're here to help!
Contact us today
sold@cindycody.ca