We're so fortunate to live in Waterloo Region and have access to seasonal and year-round farmers markets, including Canada's largest year-round farmers' market in St. Jacobs. Not only are they a great source of local produce, meats, delicious treats, unique gifts and more, but they are also a fun family destination. Here are some local farmers' markets you should visit plus a few of our favourite vendors and products.
Shop Local at These Farmers' Markets
St. Jacobs Farmers' Market
Thursdays & Saturdays 7:00am – 3:30pm (year-round)
Tuesdays 8:00am – 3:00pm (June – August)
Kitchener Market
Saturdays 7:00am – 2:00pm (year-round)
Uptown Waterloo Market
Thursdays 3:00 – 7:00pm (Summer)
Cambridge Farmers' Market
Saturday 7:00am – 1:00pm (year-round)
Wednesdays 8:00am – 1:00pm (June – August)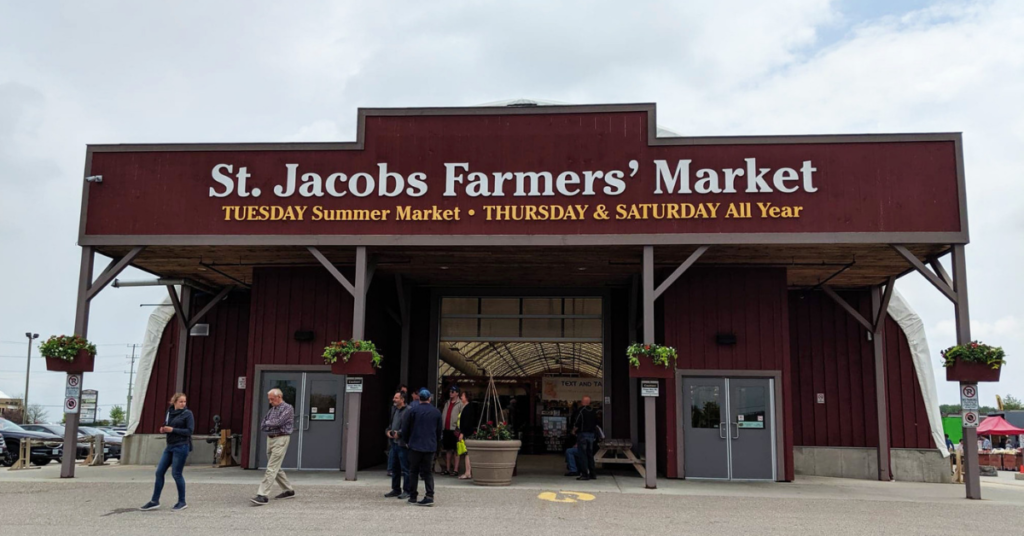 Hidden Secrets, Vendors We Love & More
Here's what we look forward to every time we visit the farmers' market!
The meat vendors offer a great variety of delicious meats to choose from, including some amazing summer sausage. Shopping directly from the farm's booth is a great way to know where your food is coming from, and the people are so knowledgable and helpful.
If you're looking for gifts, you can find unique items plus support local businesses.
You can't go to the St. Jacob's Farmers' Market without making a stop at the Fritter Co. for the best warm apple fritter you'll ever have! Don't be discouraged if there's a long lineup. It's definitely worth the wait!
If you're a black licorice lover, there's a Dutch booth at the St. Jacob's Farmers' Market that has everything for hardcore black licorice fans. The licorice ranges from sweet and smooth all the way to extremely salty and anything in between (rated on a scale of 1-10). It's worth the trip for sure.
If you can't wait for Oktoberfest to get your hands on a soft pretzel, the farmers' market is the place to get one year round.
There's always such a great selection of produce to choose from. Rather than starting the day with your shopping list, it's so fun to wander around, find some great produce and let that inspire your dinner menu.