Your home is where you're most comfortable and where you should feel the most safe. Keeping your home safe should be a priority. It will help protect you, your family, and your belongings. Here are some measures you can take to ensure you are keeping your home safe and secure.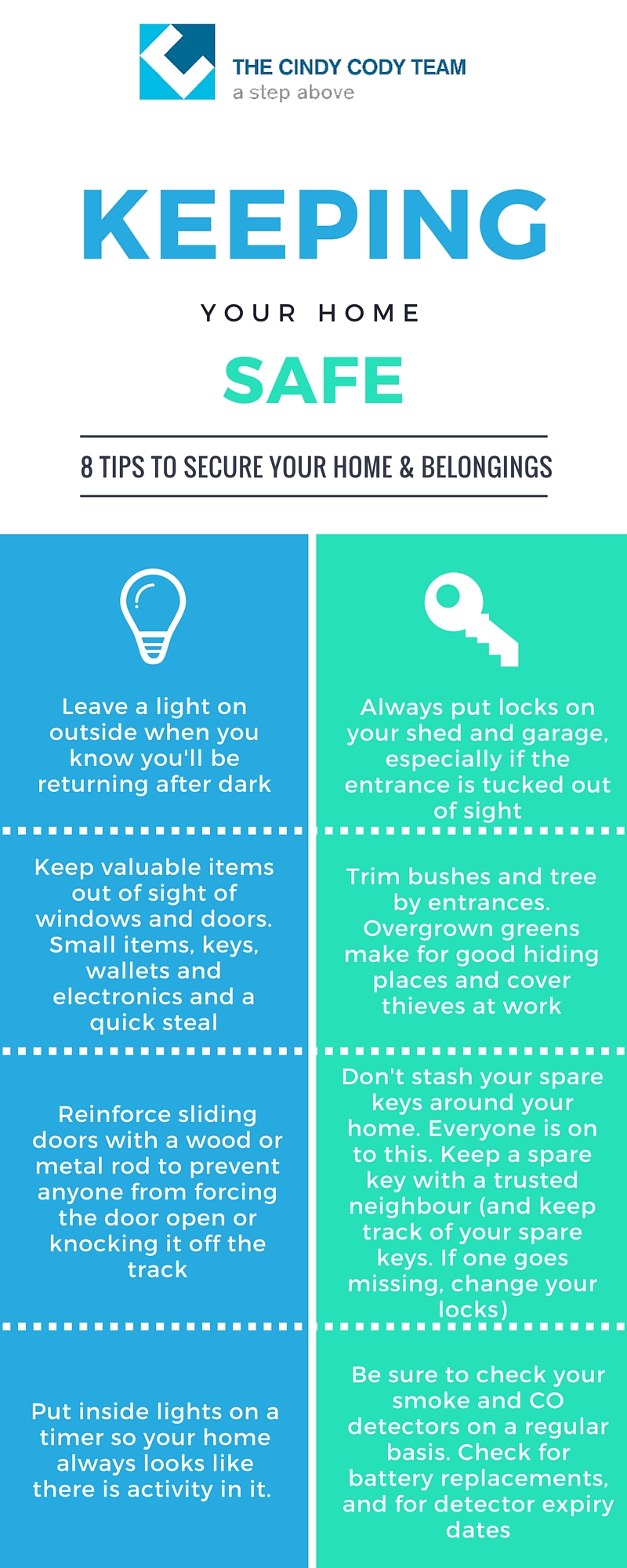 Leave an Outside Light On
Not only will this show activity at your house, but it's safe for you; you won't have to worry about tripping over steps or struggling to find your keys.
Keep Valuable Items Out of Sight
We all get comfortable leaving our keys and wallet in the front hall, but consider tucking them away. It takes seconds to open a door and grab a wallet, so thieves looking for a quick score will take this approach. The same goes for laptops and tablets; these electronics are small enough to grab on the go.
Think about tucking valueables away in drawers or in a closet. Anything that is very valuable should be secured in a safe somewhere in your home.
Add Timers to Indoor Lights
Timers will ensure the lights in your home are turned on daily, even when you're not home. This type of activity shows movement in your home, and is helpful for your family. No more stumbling down the hallway to find a light once the sun has gone down.
Reinforce Sliding Doors
Using a metal or wood rod to reinforce sliding doors will prevent someone from being able to knock it open. Often sliding doors are at the back of a home, giving burglars more shelter to work.
Lock Your Shed
Don't make it easy for someone to access your shed and outdoor tools, especially if your shed is tucked away in the backyard. Any secluded area makes it easy for someone to take their time accessing your shed and going through your things. Adding a lock with deter a burglar from a quick steal.
Trim Bushes and Trees
Overgrow plants, especially around entrances to your home (windows and doors) can be dangerous. They can act as shelter for anyone trying to get in your home, and they make for good hiding spots. Maintain your shrubs and bushes so all entrances are clear. This maintenance also gives off the message that you take care of your home and are aware of your surroundings.
Keep Track of Your Keys
We've all seen the trick: stash a spare key under a doormat or rock. Don't do this. If you know the trick, everyone else knows the trick. If you want to have a spare key around, give it to a trusted friend of neighbour. This way you can access a key if you're locked out, and it's kept in a safe location.
Similarly, it's important to keep track of all your spare keys (but don't label the keys with your address). Keep a list of everyone who has a copy, and if a key goes missing be sure to change your locks. It's better to be safe than sorry.
Check Smoke and CO Detectors
Often we wait until the alarm goes off to check the detectors in our homes. Make an effort to check them on a regular basis. Make sure they are still connected and working, that the batteries are fresh, and note the expiry date. Detectors don't last forever.