Here's something you can feel good about this holiday season: giving great gifts and supporting local businesses. You can easily check off your gift list in Kitchener-Waterloo and spend some time browsing amazing small businesses. Not only will you be able to find lots of unique products, but you will be able to enjoy the hard work our local business owners have put into their shops to create amazing festive atmospheres.
Here are some great gift ideas from KW businesses for some people who might be on your nice list:
Foodie
Movie Buff
New to KW
Homebody
Beer & Cocktail Lover
Sweet Tooth
Bookworm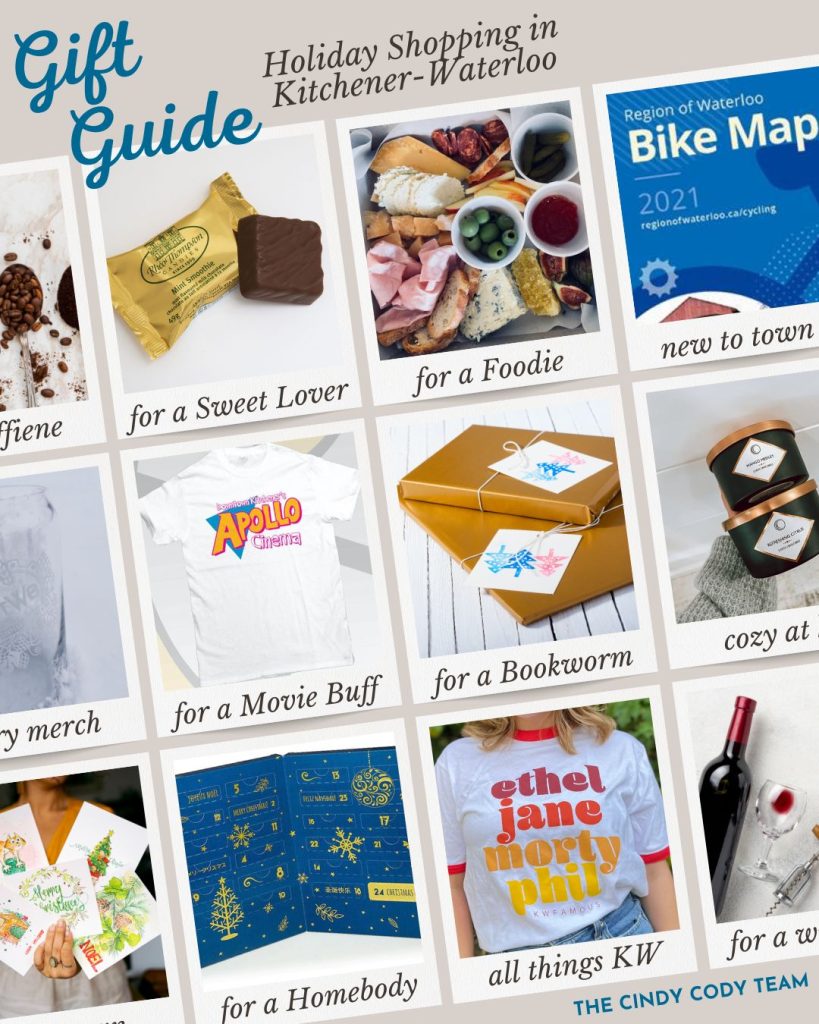 Local Gifts for A Foodie
Local Gifts for A Movie Buff
Appolo Cinema merchandise like their Neon 90's shirt. They also sell buttons, pins, mugs and more. Or grab a gift card!
Princess Cinema – Sponsor a seat for the movie lover in your life. You can dedicate a name and a message that will go on a brass-plated plaque.
Gifted carries stylish movie posters by Concepción Studios that will fit any home's aesthetic.
Local Gifts for Someone New To Town
Local Gifts for A Homebody
Local Gifts for A Beer & Cocktail Lover
Cocktail Simple Syrups UpMarket. Pair it with some of their beautiful glassware and bar accessories.
Give the gift of the Purple Teeth Thirsty Wine Club. Choose from a selection of frequencies, types of wine or packs.
Descendants Beer with some unique beer merch (buttons, candles, and bath bombs). You can even make your order a gift and they'll wrap it and add a card.
Bottles, cans, merch and clothing from Counterpoint Brewing Co.
Short Finger Brewing Co. (Kitchener's only Sci-Fi Punk Brewery) shirt, hat, toque, or other merchandise along with a bottle or two.
Local Gifts for Someone With A Sweet Tooth
Local Gifts for A Bookworm
Best the best fiction of the season, local author picks, 2022 biographies, travel books and beyond at Wordsworth Books.
Pair a book from a local bookstore with Bookish Things from Gifted (bookmarks, book-themed socks, pins, pizzles, mugs, and more)
Happy Gift Giving!