[row][span sm=8]
A Step Above
We, on the Cindy Cody Team, do whatever it takes to accomplish awesome results for our clients and focus on creating experiences that build strong relationships!
Our goal is to make sure our clients get more of what really matters.
Experience counts – We can offer more
Having a full service team of extremely experienced partners, matters.  With over 150 years of combined Real Estate experience in the Kitchener – Waterloo and surrounding area we pride ourselves in obtaining the A1 properties for our buyers and getting our sellers successful offers and more options.
[/span][span sm=4]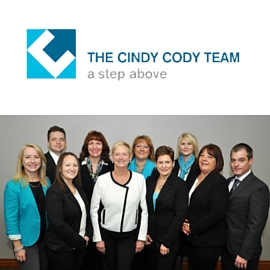 [/span][span sm=12]
We are proud to explain to people considering our services how we work differently. It takes more than putting properties on the market to get awesome results. Our sold signs are proof and our track record as to making things happen!
Staying Connected
Being connected is our core,  keeping our finger on the pulse of what's happening in the business day to day is extremely important to both our buyers and our sellers.  They count on us. We are connected extensively throughout KItchener-Waterloo and Cambridge as well to many top producers from cities across Canada. This offers us the unique ability to access real, relocating buyers on a consistent basis, giving our clients the edge.
We value the connections we make with our clients, building more than just business relationships.  Relationships that build, year after year – creating win-win in our busy worlds.
And we love OUR COMMUNITY!  We live, raise our families and have fun here.  We breathe the Kitchener – Waterloo region, it's uniques areas, neighbourhood and local businesses.
Bringing Passion
Each of us has chosen this career because it is something we are passionate about. We are able to really connect with our clients and make a difference in their lives. We're passionate about working to create a great experience for each of our clients and help them reach their goals.
Learn more about each of our team members here.
[/span][/row]