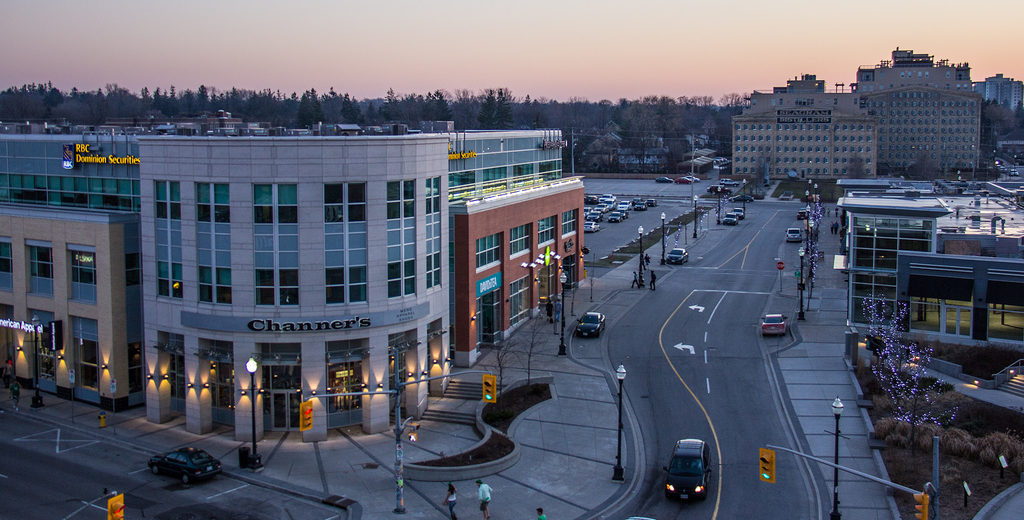 Uptown Waterloo has been going through a transformation with the installation of the LRT.  Now, more than ever, it's a great idea to support local businesses in Kitchener-Waterloo. Here are some of our favourite businesses in Uptown Waterloo.
Sablétine Fine Pastries
203 King St. S, Waterloo
sabletine.com
Sabéline is a local French pastry shop. The food is delicious. You have to go in for their quiche of the day (we had a great one with caramelized onions and other goodies), with a great salad. It's very fresh and the prices are great. We highly recommend it for lunch or picking up some yummy pastries.
Gifted
181 Park St., Waterloo
giftedwaterloo.com
There's no better place to pick up a gift. Gifted has the cutest and most unique selection of home accents, jewellery and more. Sick of showing up at a birthday with the same card as other guests? Grab one from gifted. They have so many fun (and local) products.
The Truth Beauty Company
46 King Street North, Waterloo (Lower Level)
thetruthbeautycompany.com
Visit The Truth Beauty Company in the lower level of the Princess Twin Cinema. You'll find so many great beauty products without harmful chemicals or toxins. Pick up some great health and beauty products for gifts (and a few things for yourself!).
The Waters Spa
75 King St. S. (Willis Way), Waterloo
thewastersspa.com
Nestled right in Uptown is a relaxing urban spa retreat. It's a super convenient location with great services and friendly staff. Go for an amazing massage. It's also great for spa parties with the girls!
Mark Nunes
191 King St S. Suite 107, Waterloo
marknunes.ca
Mark Nunes is a clothier and tailer located under the Bauer Lofts. It's a great spot for quality garments and stellar service.
Vincenzo's
150 Caroline St. S, Waterloo
vincenzosonline.com
If you haven't been, you're missing out on fine, fresh foods. Vincenzo's has an amazing selection of gourmet foods, ready-made dishes and so so so much more. It's great if you're looking for something specific, or just want to browse around and let your culinary senses be inspired.
Uptown Pubs & More
Uptown Waterloo has a great selection of pubs and more for beer lovers. Innovation and a love of the craft have brought lots of selection to Waterloo.
21 Fir
100 King St. S, Waterloo
21fir.com
Abe Erb Brewing Company
15 King St. S, Unit 2B, Waterloo
abeerb.com
Barley Works
59 King St. N, Upper Level, Waterloo
huetherhotel.com
Beertown Public House
75 King St. S, Unit 37, Waterloo
beertown.ca
Duke of Wellington
33 Erb St. W, Lower Level, Waterloo
dukeofwellingtonpubs.com
Gold Crown Brewery
71 King St. W, Waterloo
McCabe's Waterloo
44 King St. S, Waterloo
mccabeswaterloo.com
Stark & Perri
56 King St. N, Waterloo
The Pub On King
77 King St. N, Waterloo
White Rabbit Public House
47 King St. N, Waterloo
whiterabbitwaterloo.com