As moving day approaches, follow this guide to keep your packing and moving tasks on track.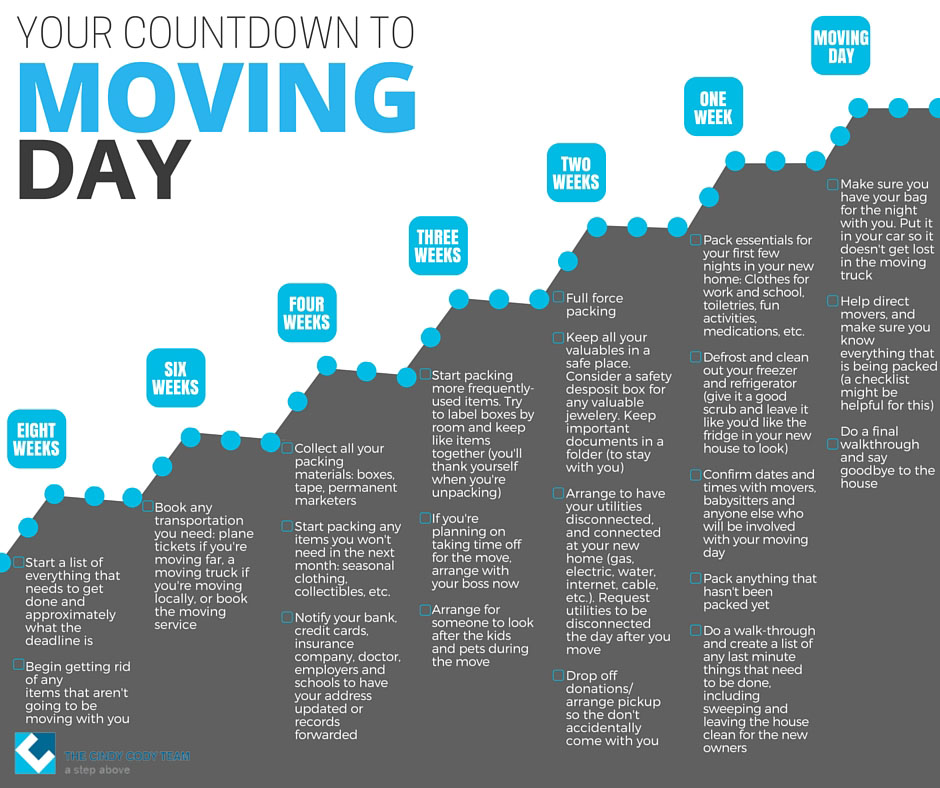 As your moving day approaches, keep yourself organized with this moving day countdown. Here are a few helpful reminders:
Eight Weeks To Moving Day
Start a list of everything that needs to get done and approximately what the deadline is. You can add those deadlines to this list.
Begin getting rid of any items that aren't going to be moving with you. Start a donation box.
Six Weeks To Moving Day
Book any transportation you need: plan tickets if you're moving far, a moving truck if you're moving locally, or book the moving service. It's a great idea to book the moving service as soon as you know your moving date.
Four Weeks To Moving Day
Collect all your packing materials: boxes, tape, permanent markers, etc. Tip: If you know anyone who works at a store, you may be able to ask for some of their shipment boxes.
Start packing ay items you won't need in the next month: seasonal clothing, collectables, decorative accents and dishware, etc.
Notify your bank, credit card companies, inurance company, doctor, dentist, employers and schools to have your address updated or your records forwarded.
Three Weeks To Moving Day
Start packing more frequently-used items. Try to label boxes by room and keep like items together (you'll thank yourself when it comes time to unpack).
If you're planning on taking time off from work for the move, confirm the dates with your boss. Or arrange for that time if you haven't already done so.
Arrange for someone to look after the kids and pets during the move. It's a great family event, but you're going to want to be focused. Plus, going to the park is much more exciting than a move for children!
Two Weeks To Moving Day
Full force packing! Keep a few things aside that you're going to need, and pack everything else. Check every drawer and cupboard.
Keep all your valuables in a safe place. Consider a safety deposit box for any valuable jewelery. Keep important documents in a folder (to stay with you). Important documents may include: passports, birth certificates, closing papers, health cards, etc.
Arrange to have your utilities disconnected and connected at your new home (gas, electricity, water, internet, cable, etc.). Request that your utilities are disconnected the day after you move… just in case. There's no sense risking the water being shut off while you're still moving out.
Drop off donation boxes at a local spot, or arrange for the boxes to be picked up so they don't accidentally come with you.
One Week To Moving Day – It's so close!
Pack essentials for your first few nights in your new home: clothes for work and school, toiletries, fun activities, medications, etc.
Defrost and clean out your freezer and refrigerator. Give it a good scrub and leave it in the condition you'd expect the fridge in your new home to be.
Confirm dates and times with movers, babysitters and anyone else who will be involved with your moving day
Pack anything that hasn't been packed yet that you won't need in the next few days. Seal and label boxes when they're ready to be moved.
Do a walk-through and create a list of any last minute things that need to be done, including sweeping and leaving the house clean for the new owners.
MOVING DAY
It's finally here! Make sure you have your overnight bag with you. Put it in your car so it doesn't get lost in the moving truck
Help direct movers and make sure you know everything that is being packed (preparing a checklist ahead of time might be helpful for this. Breakdown the list by room).
Do a final walk-through and say goodbye to the house and prepare for life in your new home!
Good luck!