If you have questions about the Kitchener-Waterloo real estate market, selling a home in Kitchener-Waterloo, or anything about real estate in general, you're probably not alone.
We get questions all the time.
But sometimes people are too shy to ask, so they take their questions to Google for answers.
Today we're taking a look at the top Googled questions about the Kitchener-Waterloo real estate market (and beyond).
What are people Googling when it comes to the Kitchener real estate market?
We used the "People also ask" feature of Google's results to see the top Googled questions about Kitchener-Waterloo real estate. Here's what we found: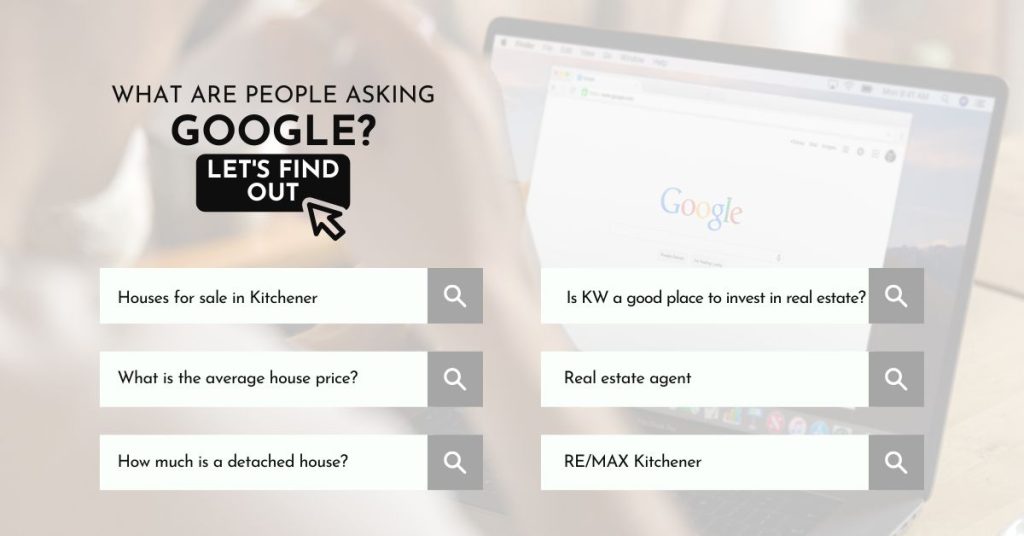 Houses for sale in Kitchener
Many people are starting their home search on Google. They are searching for homes for sale around a specific price point.
You can find the latest homes for sale in Kitchener here.
Did you know a real estate professional can gather your specific criteria and notify you when properties that match become available? In fact, if you get in touch with us, we can let you know about properties even before they hit MLS.
What is the average house price in Kitchener-Waterloo?
Each month, the Waterloo Region Association of REALTORS reports key statistics from the previous month's market activity, including average purchase prices. For example, in February 2023, the average sale price for all residential properties in Waterloo Region was $758,698.
How much is a detached house in Waterloo?
The WRAR monthly updates also break down the average sale prices by property type. For example, in February 2023, the average sale price of a detached home was $877,884.
Is Kitchener-Waterloo a good place to invest in real estate?
This is a great question! First, Kitchener-Waterloo is a vibrant and friendly community. KW is a fast-growing city, there are local education options, we have a thriving tech industry, a great Light-Rail Transit system, and there are great resale possibilities for residential or investment properties due to our proximity to the GTA.
Still not convinced? We spent some time answering questions just like this one.
What Are Top 5 Reasons to Invest in Kitchener-Waterloo Real Estate?
Why Is A Condo A Good Investment
Real estate agent
Some buyers and sellers aren't quite sure where to start, so they use a generic search to find a real estate agent. There are lots of people who can help you sell your home, but you don't want just anyone. Our recommendation is to work with a real estate professional who has the experience and the tools essential to help you achieve your real estate goals. For example, a network of local and out-of-town buyers, experience with the communities and strategies it takes to close a deal, and a trackrecord of trust and happy clients.
The Cindy Cody Team is connected, respected and proven. Learn more about why that matters.
RE/MAX Kitchener
RE/MAX is a trusted real estate brand, so we're happy to see it pop up as a top real estate Google search. "For over 20 years, RE/MAX has been the number one real estate organization in Canada, and continually has the number one market share in virtually every region".
Here's something you might not know:
Cindy Cody is part of a cross-Canada network of RE/MAX agents. Which means, if you're ever thinking about relocating, we can connect you with a top agent. Just ask!
If you have a question about real estate in Kitchener-Waterloo, we're happy to be a resource for you. Contact us for all of your real estate needs!